Features
Bizbee Helpdesk has a comprehensive list of automation tools — to build a dependable service desk for companies of any size
Simple and effortless setup
Our Helpdesk tool provides everything your sales team needs to procure, manage the prospects & customers, increase the sales, without letting the technology dictate your strategy.

Automation jobs of routine task
Helpdesk has the capability to reach out to customers wherever they are. Be it - Email, Chat, Phone, Social channels.

Feedback tab & chat
Desk Bee Email Management software provide fast and intelligent handling of large volumes of emails.

Multi-product/Multi-brand Support
Views are essential for managing the ticket workflow because they allow you to create meaningful groupings of tickets.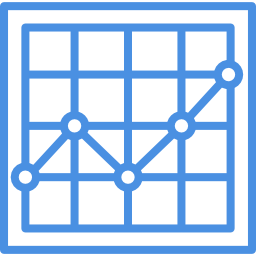 Tab based system
Desk Bee ticket flow, is a support software package that manages and maintains lists of issues, as needed by an organization.

Service Level Agreement
Reports helps you to understand your customers, employees and internal processes better, for a more efficiently run business.

Easily import and export database
Macros are used to make a sequence of computing instructions available to the programmer as a single program statement.
Ticket Management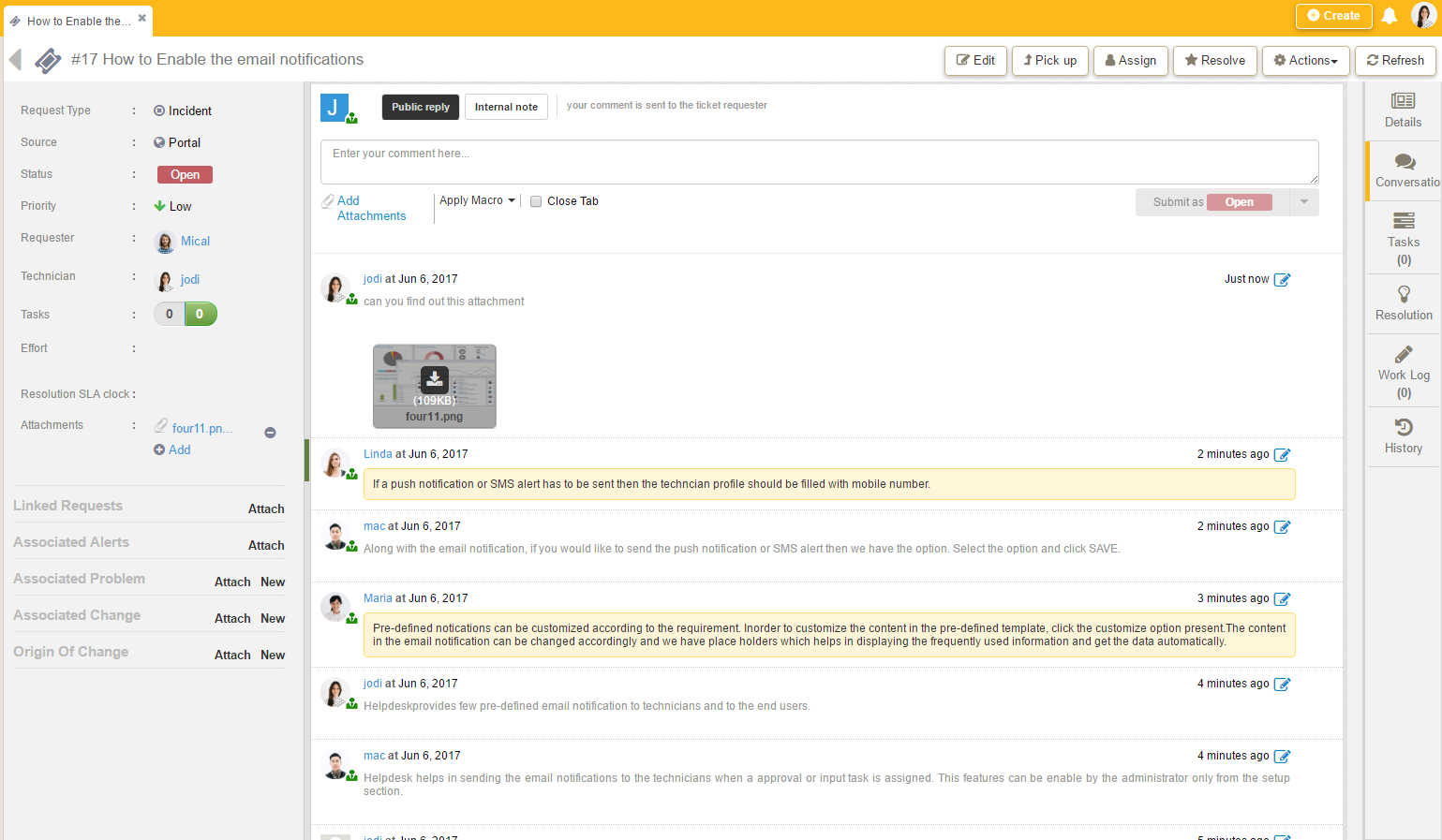 360 Overview
Capture the complete communication happening between customer users & agents. User can perform all actions without leaving from screen, like : user reassignment, change ticket status, adding tasks & notes etc.
Macros
Respond to tickets by creating pre-defined well written response templates without typing the same again and again.
Public & Private Replay
Agents can have a private conversation on a ticket without customer knowing about it. So that, collaboration can happen with multiple agents, but final reply goes to customer.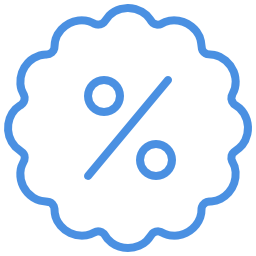 User specific views (Private)
User can create his own custom views based permission given. No other user can view these views. They are private to that user.
Group Views
Group admin (or) Company admins can create the custom views only be visible to certain groups. Every user from that group gets those views.

Control : Listing columns, page size, sorting columns etc
Configure everything related to custom view: Columns, Filter Conditions, Sorting & Group columns, Page size if its paginated etc.
Custom Views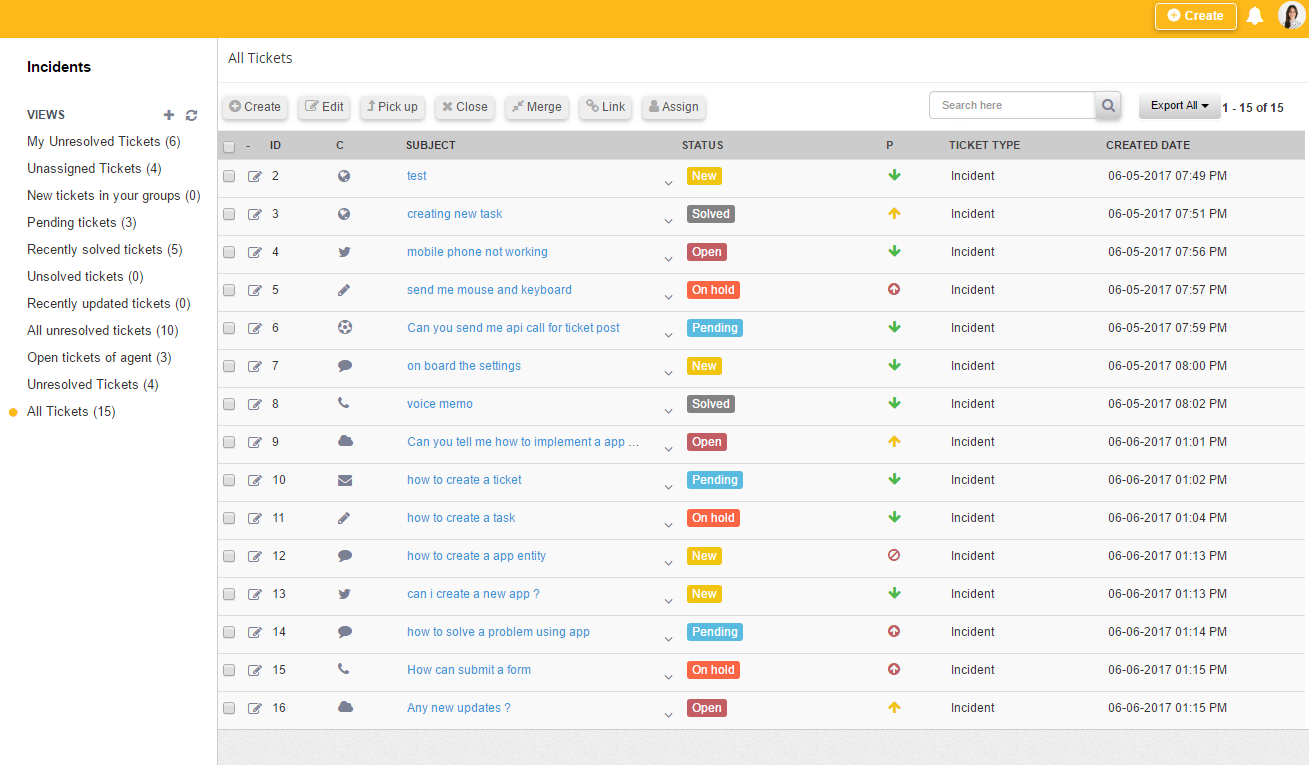 Ticket Workflow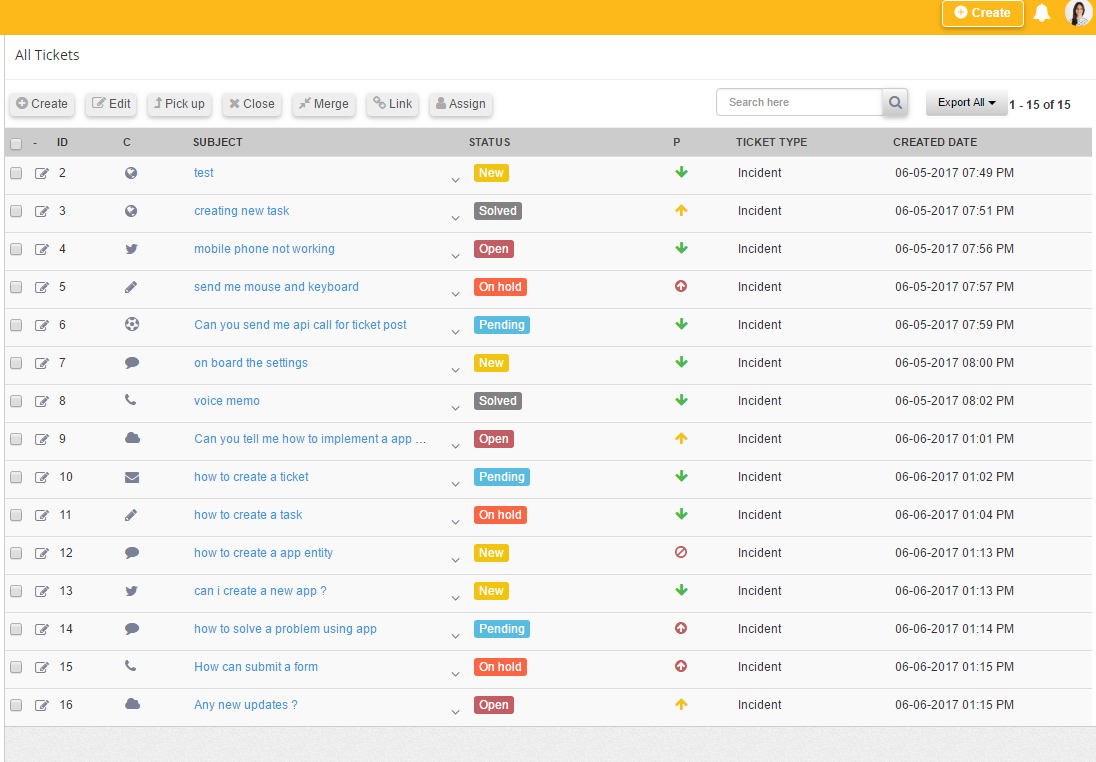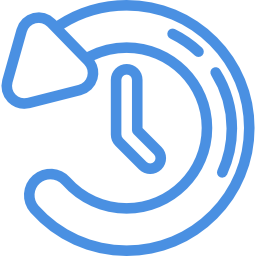 Ticket workflow
You can control the ticket workflow using triggers. Based on the configuration, whenever a user complete his response, it goes to the next state in the workflow. Each status is indicated with separate color for quick understanding.

Audit log
Ticket assignee & Admin can view the complete workflow activity of the ticket. Get the path how it got traversed from creation to close.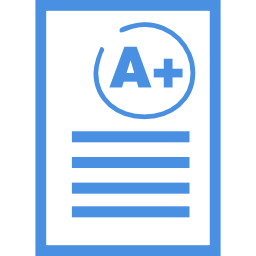 Insights
Help desk records lot of metrics in the ticket life cycle to help the admins in better the support process. Like - response times, resolution times, waiting times, interaction counts etc.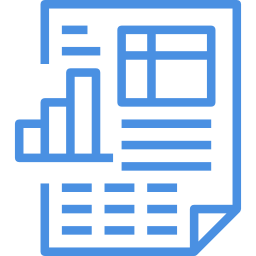 Default reports
Bizbee Helpdesk comes with 50+ built-in reports to give insights on - support desk performance, user performance, customer satisfactions & surveys etc. We have reports on the metrics collected as part of the life cycle.

Custom reports
Customers can create a custom reports on top of the default reports according to their business needs. Flexible condition builder along with nice charting widgets, user can build a beautiful & insightful reports.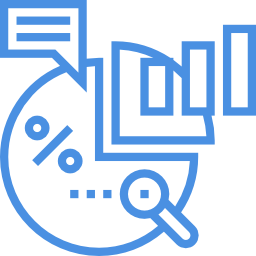 Gamification
Bizbee Helpdesk provides gamification aspect to the customer support. Customer can design the game with points, badges based conditions and measare the agent performance. Leaderboard indicate who is doing good in the support department.
Insightful Reports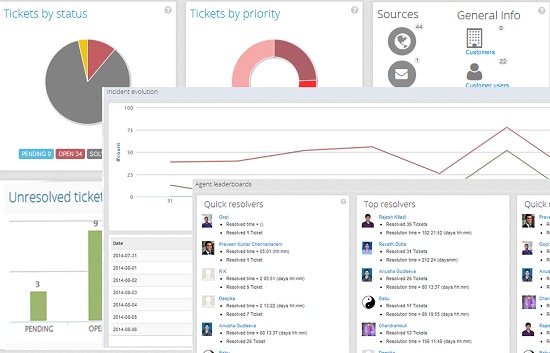 Macros, Triggers, Automations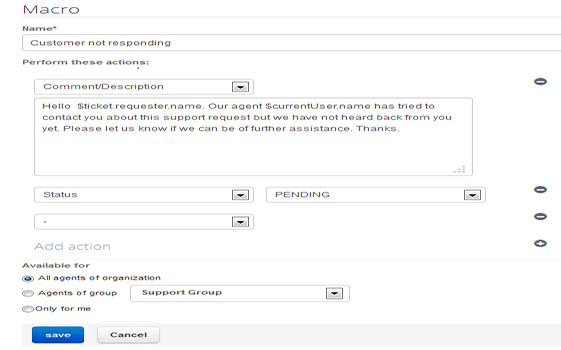 Macros
Macros are nothing but well written & predefined response templates accessible to the agents in the ticket screen for quick action. They bring the consistency in the responses no matter who is responding to the customers.

Triggers
Triggers are nothing but system action performed on the ticket after an agent/customer create/update a ticket.
Automations
These are nothing but periodic & repeated actins performed on top of the data (based on the conditions). Maintenance activities like - move the ticket to close if customer don't respond in 3 days after resolution. Archiving the data periodically according to the policy etc.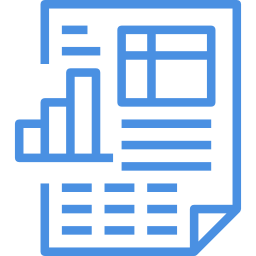 Beautiful self-help portal
Bizbee Helpdesk empower the customer in building the self serviceable portal with articles segregated into different categories & forums.

Write content easily with better composer
User can write a content (nothing but articles) with nice composer & set the visibility according to his needs.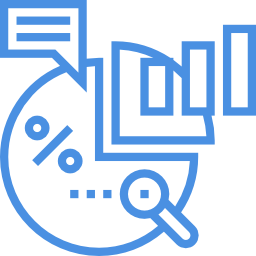 Deeper Insights
KB Admin can find more insights about the content based on metrics - user search key words, customer satisfaction ratings, subscription counts, likes etc.
Self help knowledge base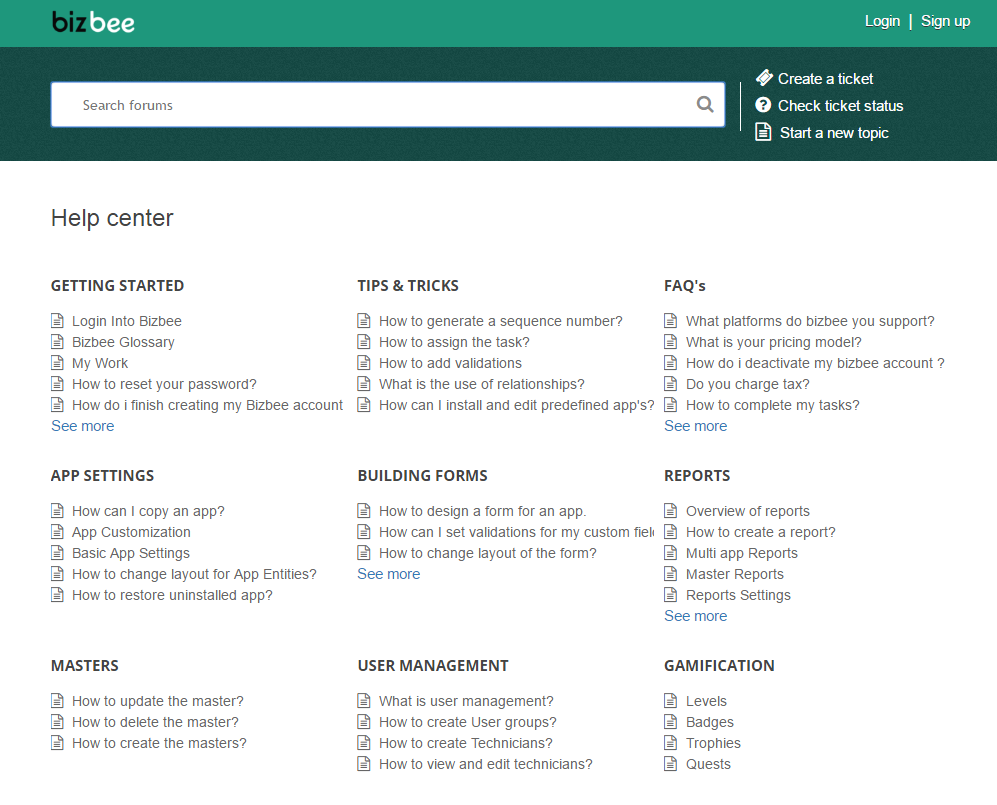 User, User Groups & Roles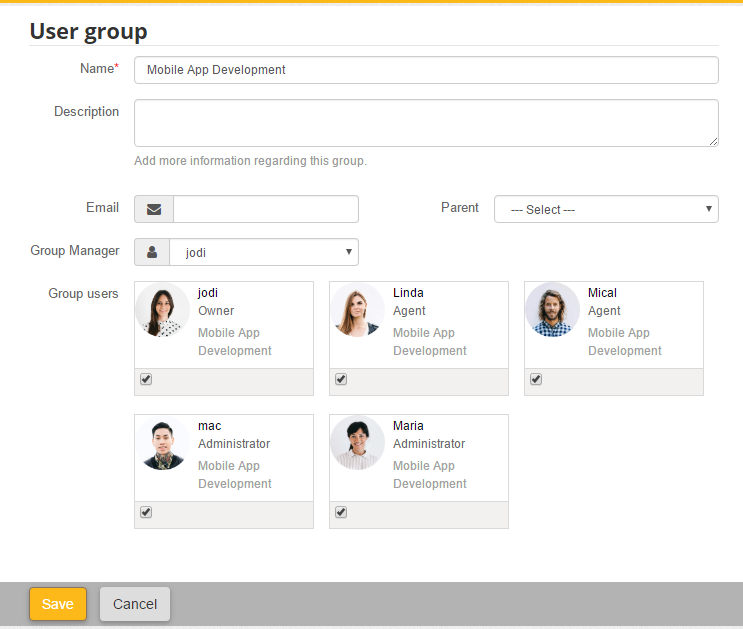 Users
Admin can create as many as agents based on the growth without worrying about the scaling issues. Admin can extend the user fields based on their business with custom fields.
User Groups
Group the agents according to their skills & redirect the tickets to that group using the triggers.

Roles
Create the roles and set the permissions on what to be visible & accessible to a users.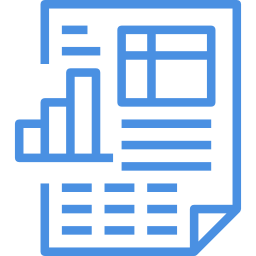 Design your game
Customers can design their own game by defining various rules on top of - groups, response times, resolution times, to & fro rotations, waiting times etc.

Points, Badges and Trophies
Customer can design their points scheme, select the badges and trophies out of the system provided list.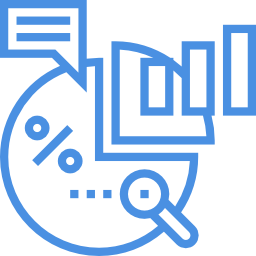 Leaderboard
Based on the points & badges that agents get over the period, Helpdesk generate the leaderboard of the agents based on their performance in the given duration. This can be used in performance appraisal process.
Gamification

For streamlined work that will drive your business forward
This could be the 15 minutes that changes everything.
"We were impressed on our end with your execution of our MyPerfectFit project. Your team worked well and effortlessly and the shoppers and tailors were fine with your solution."

Sushil Kumar

Co-founder & CEO of My Perfect Fit

"You guys brought the efficiency into the company by giving access to all our echo system. We are getting 100% visibility from Suppliers. We increased our customer satisfaction levels by 50% to 60% after started using Bizbee. Thanks for wonderful solution."

Ramesh Varma

Managing Partner of TechPack Solutions

"You guys didn't meet my expectations...you EXCEEDED them! I just wanted you to know how pleased we are with the service and attention we get from you guys."

Prateek Virmani

Founder of Funds Buddy